Even if you don't like museums you'll definitely like this one. DC's Newseum is spectacular.  It is 7-story high with permanent and special exhibits. It is recommended to start from the top floor.
One of the greatest exhibitions is the 9/11 gallery. It shows you front pages from around the world and journalist's personal experiences while reporting from the World Trade Center. You'll also be able to see the remaining broadcast antenna of one of the towers. Be prepared: It'll get very moving and sad.
Besides the 9/11 exhibition you can learn more about the news in general, radio and internet history. There are also changing exhibitions like the Berlin Wall collection, the Journalists Memorial or the John F. Kennedy exhibition with exclusive videos including the entire assassination of JFK on film.
Also don't miss to get a snapshot in the Newseum's TV room where you can play the role of your favorite reporter and to visit the 4D cinema.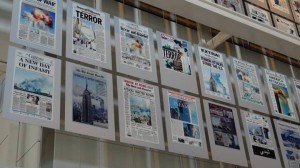 Little hints: Go to the top floor! There you can have a great view of DC's Capitol.
After your visit you should try a meal by the Austrian celebrity cook Wolfgang Puck in the Newseum's restaurant and don't forget to stop by the gift shop where you can buy all the necessary great gifts for your friends and family