Some of you would never consider living in New Jersey. Well, Teddy lived there for a while, to
be more precise, he lived in Jersey City for three months. For those who already live there: If you want nice afterwork drinks just go to the Bistro at Grove Square.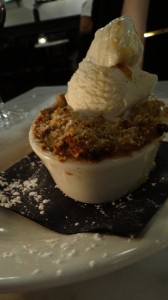 For those visiting: give New Jersey a chance, especially Jersey City. You'll find nice pubs around Grove Square and will be surprised by friendly people, the weekly market and live music. Grove Square is located directly above
the PATH Grove Street Station, only two stops or about 15 minutes away from both, Midtown Manhattan and Financial District. If you exit the station, the Grove Square Bistro will be located directly in front of you, next to Douane Reade.
Teddy's secrets: Enjoy one or more glass/es of wine with a bruschetta – simple but delicious! Top it off with one of those Hot Apple Pies with Vanilla Ice Cream! Another  hint: lots of products at Douane Reade are already a lot cheaper than in NYC, even if you are only 15 minutes away… you are in another US-State!